7 Time Tested Ways to Learn English Part II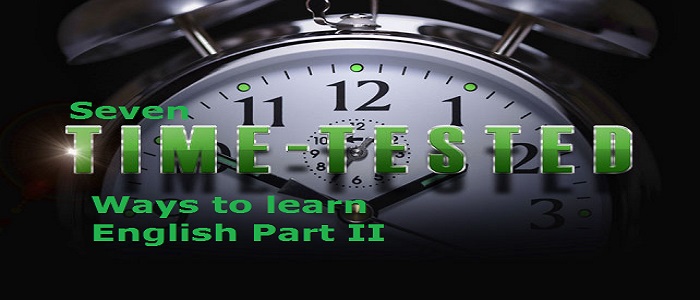 2. Stick to reading habit (Children Stories, Magazines, etc and NOT "NEWSPAPERS, NOVELS, etc. .etc. .")
By Mr. Nikhil Dedhia (Edupreneur, Entrepreneur & Trainer)
Reading is, of course, a good habit to have the perfect grip on the English Language.  But, as many people suggest that you should start with reading Newspapers or novels is not a good idea.  Newspapers' language is tough to understand, as it contains high vocabulary, indirect speeches and more of passive voice sentences.  So it is advisable to start with short story books like Vikas stories for children, Panchtantra, Hitopdesh, Aesop Fables, Tinkle, Champak and many other magazines for kids like Tell me why, Chandamama, Highlights Champs, Highlights Genies, etc. .etc..
Don't entertain your ego, that, why should I read story/magazines for children.  These books contain really simple language and conversations that are very easy to understand.  Also, these books give you access to simple day to day vocabulary.
Now, comes the BIGGEST BLUNDER that we commit.  In the excitement of Learning English, we forget to do basic preparations like having a Dictionary Handy and a notebook.  Before starting English Reading Practice you need to be ready with the following Learning Tools
1. Notebook
2. Pencil and Eraser
3. Dictionary
4. Highlighter
Once you are equipped with these tools you can begin the Reading Practice.
Now Let's focus on the "How to Read?" technique.  We feel that reading is the easiest thing, and many of us quit our Reading Habit midway because we don't follow the discipline.  Remember reading is simple but not easy. Keep in mind the following steps, to have that perfection in Reading English Language and make it a habit.
1. Sit in a place where you don't have to face any disturbance.
2. Sit on a comfortable chair and sit upright.
3. Put off all the distractions like mobile, television, etc.
4. Close your eyes and take 3 deep breaths before starting a reading.  This will ensure peace of mind and better concentration.
5. Last but not least, be ready with all the tools mentioned above.
If you follow the above 5 steps, then I personally guarantee that you will have the best Reading Practice experience.  And nothing can stop you to Learn English in the most perfect way.
Keep the record of all the new words/ new vocabulary that you learn in the vocabulary notebook.  Also, read slowly and if you don't understand certain sentences, read it 2-3-5 times until you understand.  Still, if you are not clear, then we are always there to help you out.
That's why WE at Sheetal Academy Spoken English say  "Forever With You".
Sheetal Academy specializes in Basics to Advanced English courses for people from all walks of life. Recognized the world over as a language study and training center of excellence, Our Basics to Advanced English Course takes care of all the necessary things to be learned while communicating with people from various areas of life. In our Basics to Advanced English Course, we even cover Extensive Speaking and Reading Skills which help you to have a LONG LASTING IMPRESSION.