7 Time Tested Ways to Learn English Part III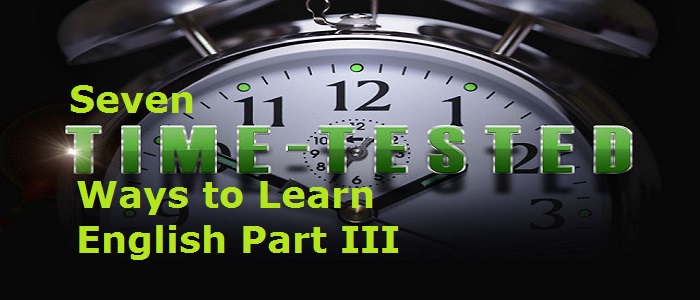 3. Make a Vocabulary notebook
By Mr. Nikhil Dedhia (Edupreneur, Entrepreneur & Trainer)
Now, since you have made the habit of reading books, don't let the habit go waste, make the most out of it. Note down all the words that you are not able to understand at one go.
Here's the List of Do's and Don'ts for Making the Vocabulary Book.
1. Purchase a notebook to note down the words, don't go for a Long Book or a Bulky Book. The book must be handy and easy to carry.
2. Note down the words as they come in your way, Don't go for arranging it in a sequential manner as it appears in a dictionary. This would kill the purpose of making the Vocabulary Book.
3. Note down the pronunciation of some words in a bracket just next to the word:
For eg: Sycophant (sik- fant) .
You can write the way you want so that you remember pronunciation (pr- nun- cia- shan) in an easy manner. You can write it in your mother tongue too. Also note, there are several different ways to note down the pronunciation.
4. Don't be too tech-savvy and write the words in the sticky notes or notes of your mobile, it will just make you forget more easily. Research, says that you remember words easily, once you note down.
5. Do read the words 2 to 3 times in a week, this will help you remember the words very easily and you don't need to mug up the words.
So go ahead and develop your fluency in English and speak Advanced English/Fluent English like a pro. Don't stop, Stun the world with your Rich Vocabulary Power. The above exercise will give you access to develop Corporate English Speaking Skills, which is also called as Business English. Corporate English is the new word for Business English. Did you notice that I just taught some new words and have made your vocabulary power stronger?
Remember the more vocabulary power you have, the more Fluent English you can speak and leave that indelible impression in other people's minds. Also, vocabulary power will help you to understand English in a much much better way. Even professionals struggle with Vocabulary power and are not able to have a good command of English. As a result, they lack confidence and make blunders in English Communication.
To be updated about the new and modern vocabulary you must, Join Our daily "Free WhatsApp vocabulary Service" for that. Just click on the link to know more https://sheetalacademysurat.in/free_whatsapp_service
WE at Sheetal Academy Spoken English are "Forever With You".
Sheetal Academy specializes in Basics to Advanced English courses for people from all walks of life. Recognized the world over as a Language Study and Training center of excellence, Our Basics to Advanced English Course takes care of all the necessary things to be learned while communicating with people from various areas of life. In our Basics to Advanced English Course, we even cover Extensive Speaking and Reading Skills which help you to have a LONG LASTING IMPRESSION.