7 Time Tested Ways to Learn English Part IV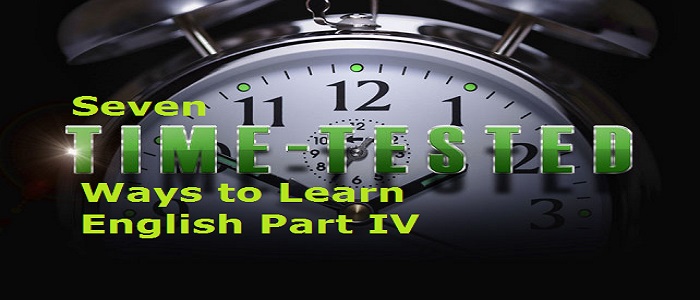 4. Have Some Handy Tools
By Mr. Nikhil Dedhia (Edupreneur, Entrepreneur & Trainer)
Download Dictionaries, Story Reading Apps, Simple News reading apps
To learn Fluent English and good reading practice one must have some handy tools, that will help you have perfect command on Spoken English.
Good dictionaries like Merriam Webster, Word web, Hinkhoj, etc..etc. .are really helpful while searching the synonyms of the words that are difficult to understand. These dictionaries offer you handy help whenever you are stuck with the toughest word and are not able to proceed further. Also, these dictionaries have the pronunciation function that will help you to pronounce the word in a better manner.
There are many story reading apps available on Google play that help you to read short inspiring stories, just like the books that are mentioned above.
Alternatively, you can also download, News-in-shorts app available on Play Store, this app contains 60 words news, that is easy to understand. There are hell lot of apps and other things available on the internet and play store, but the method mentioned above is Time Tested And Proven Method that I have applied practically and a lot of students, professionals, housewives, etc. . have benefitted from it.
Reading without handy tools will make you feel dejected, the more you use the tools, the more you are proficient in English and vocabulary. You have an avid command on English Language and that makes you stand out of the Crowd. In my life, I have practiced a lot of methods and then zeroed down to the selected tools that are necessary for this modern era.
What happens is sometimes a particular word has 3 to 4 different meaning and we are not able to understand which word to use where. But with the help of tools, you understand these words clearly with many examples. Also, we have our all-time friend Google, if you are not satisfied with the examples given in the dictionary.
Last but not least, go and Join "Sheetal Academy Spoken English", this is the biggest of all the TOOLS that you will ever have. Because at Sheetal Academy we are a team of experienced people, who have researched the best things to push you through the limits and are COMMITTED to teach English to any kind of student.
So you need not experiment with any new methods, just follow the above method and rock your English learning practice.
To enrich the experience of learning English in an easier way further SHEETAL ACADEMY promotes "Online Spoken English" through Skype at our institute. We connect the students to our 200 plus centers all over India through Skype and enable them to learn Spoken English in the most effective manner devised by any Spoken English Classes in Surat yet. We take full privileges of 200+ centers to give students an unmatched and unrivaled experience of learning actual & core Spoken English with our copyrighted "Spoken English Course" material.
So what are you thinking and waiting for, just come and inquire about the facilities about the Spoken English Course, which we offer and make a resolution to change your future right away….!