7 Time Tested Ways to Learn English Part VI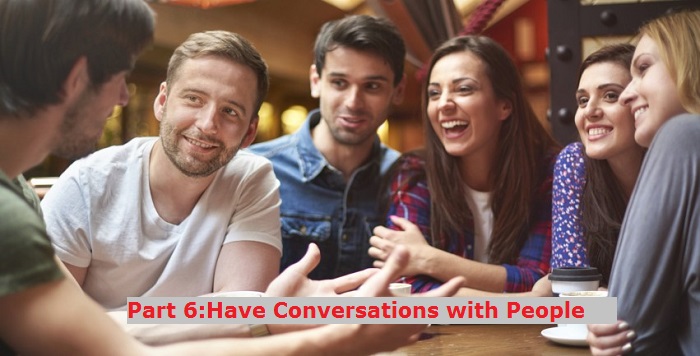 6. Have Conversations with People
By Mr. Nikhil Dedhia (Edupreneur, Entrepreneur & Trainer)
To learn Spoken English one must start with "Broken English". This is what I say to my students, colleagues, relatives, friends, etc. Basically I have met a lot of people from various walks of life, some of them were surrounded by the people Speaking in English, whereas some of them were just not able to get enough of it and some more were devoid of the English speaking atmosphere altogether.
Now I started to enquire that, why people who were surrounded by the people Speaking in English could speak fluent English. Because sometimes, although we are surrounded by people speaking different languages than our mother tongue, we are not able to learn their language. My inquiry started to deepen and I found that, no matter what, these people tried to speak in English wherever possible. They never left a single stone unturned in speaking English. Wherever they go, they would either read some magazine, newspaper, a billboard or constantly browse Google or some application which gives them access to learning English.
But one of the most common traits that I found in these people was, they spoke whatever they were comfortable with. They never thought of what people will think. I have got many personal experiences in various Centers Of Sheetal Academy Institute of English Speaking across Maharashtra and Gujarat. There are some students, whom we need to push hard and there are some students who just get up and start speaking whatever they can. They are neither ashamed to speak wrong English nor worried about the LKK factor (Log Kya Kehenge) (What people will say).
So the Mantra is Simple, "Learn Spoken English, Start with Broken English". Now the most confusing part is how to start and from where to start. So here's my expert advice on it.
1) Talk and chat with relatives and friends as frequently as possible. Don't ever miss a chance to converse with them in English.
2) Add some simple English words or small sentences in your mother tongue conversations with the people around you, this will make them accustomed to you speaking English.
For eg:
a) How do you do, yaar bahut dino se mile nahi hai?
b) I can understand you, but filhal mere paas time nahi hai
c) Bahot dino se tuje milne ka soch raha hun, How about going to dinner?
d) Are yaar, what are you doing? Jaldi karna.
3) Gradually add some more sentences and try to speak frequently with them in English. Do away with the fear of people laughing at you. If, you are standing in fear of getting mocked than it is difficult for you to learn quickly. Don't be discouraged with what people are thinking about you. Even if they discourage you, by making fun of you, don't get stopped. Go on speaking with them in English, only two things can happen then either they will stop talking with you (which is not possible) or they will start listening to your English. In any of the cases, it is you who will benefit from it.
4) Try speaking with unknown people, because our concerns about getting mocked run away, anyways you don't know them and they don't know you. So there is just a win-win situation for you. You can speak at the railway ticket counter, restaurants, malls, multiplexes, etc.
The only thing you need to do is practice some sentences beforehand and then go and practice it in the real world. For eg:
In Multiplex,
1. Excuse me, can I know the show ticket availability for the 9 pm Show.
2. May I know the directions for the washroom?
3. I want 2 buckets of popcorn.
4. Would you please sit down, the show is about to start.
5. Would you mind if park my car here?
In the Mall
1. Can you help me with the Trousers?
2. May I the cost of this dress, actually the label is missing on it?
3. Is there any discount or scheme going on right now?
4. What would suit me the most, this or that?
In the Restaurant,
1. May I get the menu?
2. What is a special dish for your restaurant?
3. Can you make it a little less spicy?
4. May I get a spoon and fork?
5. What would you like to have?
6. Hey, why don't we go for continental cuisines today?
So here are the wonderful tips to help you converse in English and make your fear run away. And go out in the world and have a powerful conversation with all the people in your life.
We follow the same practice of conversation, in our Academy for teaching English. Students break the barriers of speaking in front of people and gradually have command over the world.
We at 'Sheetal Academy Institute of English Speaking' take great Efforts to teach you English the easiest way. Our Team Puts their 100 percent and also gets the things done by you. We are committed that whosoever comes to Sheetal Academy, must learn something new Every day and makes a difference in his/her life through English. To help you make a difference in your everyday life we offer a Plethora of Courses ranging from Basics of English to Advanced English and right from Interview Skills to Corporate English.
Our Commitment, dedication, determination, and expertise reflects in the facilities that we provide,
1. One to one teaching/Individual teaching
2. Flexible timings
3. Expert teachers/faculties
4. Lifetime membership for Speaking
5. Separate Speaking Batches for Basic English Speaking and Advanced English Speaking Students.
So take full benefit of this vacation and be a pro in English.