Habit Changers Course – Successfully Ingrain Your Career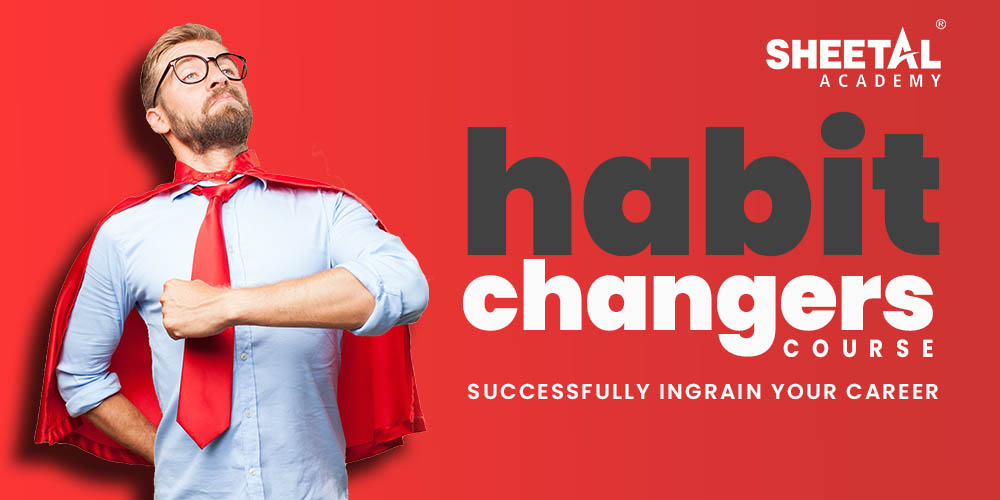 "WE ARE WHAT WE REPEATEDLY DO. EXCELLENCE, THEN, IS NOT AN ACT, BUT A HABIT"
The HABIT CHANGER COURSE, a special launching course by Sheetal Academy this summer. This course is transformation training for people who are serious about getting clear on their goals, removing deep seeded blocks and creating the life they want. This Special Course is designed to get you life-changing results and an exact blueprint to achieve your wildest dreams! Changing your habits is a process that involves several stages. Sometimes it takes a while before changes become new habits. And, you may face roadblocks along the way. Today, Our habits, good or bad, are developed over our lifetime. They reflect the things we believe, the things we read and listen to, and our choices in friends. Our lives are defined by our habits. Let's get into the deeper why its necessary for you!

Why Habit Changers course?

Our daily lives are often a series of habits played out through the day, a trammeled existence fettered by the slow accretion of our previous actions. But habits can be changed, as difficult as that may seem sometimes. So what are your daily habits? On the drive to work do you listen to the radio or listen to motivational CDs? What about your work routine, do you arrive on time ready for the day, or does it take you most of the morning to get ready to go? And at lunchtime, is it fast food and fries or a healthy meal? All are habits, and all are choices. If you want to change your daily routine, you have to change your habits. A word of warning about habits – normally it takes about 30 days to establish a habit. If you have a bad habit and you want to get rid of it, you must replace it with this course.

Sheetal Academy provides you weekly modules containing powerful training lessons, and step by step exercises. This means you'll go through each of the modules together, one at a time, to make sure you avoid getting stuck in information overload and instead stay on purpose and on track! We know you're all busy and so we've designed this course to make achieving your dreams and living your dream life EASY.

Let's Keep it Simple!

Habit change is not that complicated. While the tips below will seem overwhelming, there are really only a few things you need to know. Everything else is just helping these to become a reality. The simple steps of habit change:
1. Write down Your Plan.
2. Identify your Triggers and Replacement Habits.
3. Focus on doing the Replacement Habits every single time the Triggers Happen.
That's it. We'll talk more about each of these steps, and much more, in the live training session.

"You can not change your FUTURE, you can change your HABITS. And surely your HABITS will change your FUTURE".
The main purpose of this Habit Changer Course is to change your life. Because you'll never change your life until you change SOMETHING YOU DO DAILY. The secret of your success is found in your DAILY ROUTINE. So, time comes to think about and join the "Sheetal Academy" for your FUTURE! Visit www.sheetalacademysurat.in to apply now or call us @99043-42117.