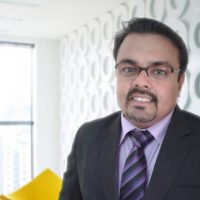 Mr. Nikhil Dedhia
Director
From Mumbai
Director of Sheetal Academy, Mr. Nikhil Dedhia is an enthusiast and passionate about English. Born and brought up in Mumbai Suburb, Dombivli (the birthplace of Sheetal Academy Pvt ltd) he had a passion for English and started his journey of learning English thoroughly at the age of 13. Though he pursued Engineering his passion for English and teaching brought him back to teaching English. After completing BE(instrumentation) he met Mr. Ketan Shah founder of Sheetal Academy, from who he got the inspiration to go for a franchise of Sheetal Academy. But the biggest challenge was to select a destination. Again his fascination and charm for Surat compelled him to come to Surat. As if some super-natural power drove him here because Mr. Nikhil had never been to Surat earlier except 1 or 2 visits to Bombay textile market and a visit to Dada Bhagwan temple at Kamrej.
But when he decided to put up a center at Surat, he visited Surat in December 2009 and was spellbound by the vigor and progress of Asia's fastest developing city. He made up his mind immediately and without any second thought selected the city or u can say the city selected him.
Then started the journey of Sheetal Academy Surat. ..
Other Members