Personality Development Course – I am Unstoppable (Living the Life I Love)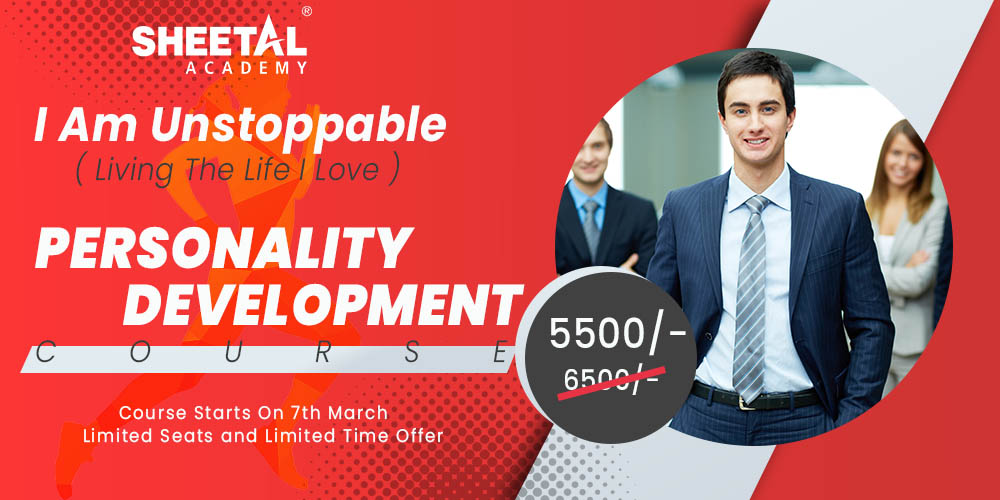 This 7th March, Sheetal Academy is launching its new course "Personality Development" with new learning patterns with a discounted price. Before the personality development course charged 6500/-. But this time, it's 1000/- off and the discounted fees are 5500/- which is only for a limited period. Now, some questions are arriving in your minds, why join this course?
Here is the answer:
1. Your personality is the first thing that noticed in a job interview, in any company, any field.
2. Personal development is key to satisfaction and growth in all aspects of life.
3. This course covers everything from how to plan your career to how to achieve success, is designed to help you become a more effective, organized, and thoughtful person.
4. The Course will polish your presentation and communication skills and prepare you to have a successful career in any field of your choice.
5. Improve your communication, presentations & soft skills, which are essential for a good academic & professional life.
6. Quickly complete the course using the fast-track option.
You will learn the time management, decision making, creative thinking, and goal-setting skills, you'll discover some really helpful life tricks that will make your future a lot brighter, and your day-to-day life much less stressful. Don't trust our words. Just going to Google and check our student's original reviews with ratings. We only believe in sharp results which comes by following the course routine in day to day life.
If you think why should you join right now this course, the answer is the fast track course pattern which is short and suits your schedule daily. Also, you can see the market and corporate world which is transforming into the digital patterns and the industry is going to mark the high level. That's why they are not only looking for the employees, they want the sharp employees whose personality, knowledge, communication command and process of thinking is sharpened. So, time comes to focus on the career and take a decision for life. It's not just a course, its a lifetime opportunity that buildup your image in every industry and transforming your life.
We are each gifted in a unique and important way. It is our privilege and our adventure to discover our own special light.
An investment in your personality development is the best investment you can make. So, time comes to think about and join the "Sheetal Academy" for your bright career! Visit www.sheetalacademysurat.in to apply now or call us @99043-42117.