Advantages of Online Face-To-Face Learning by Sheetal Academy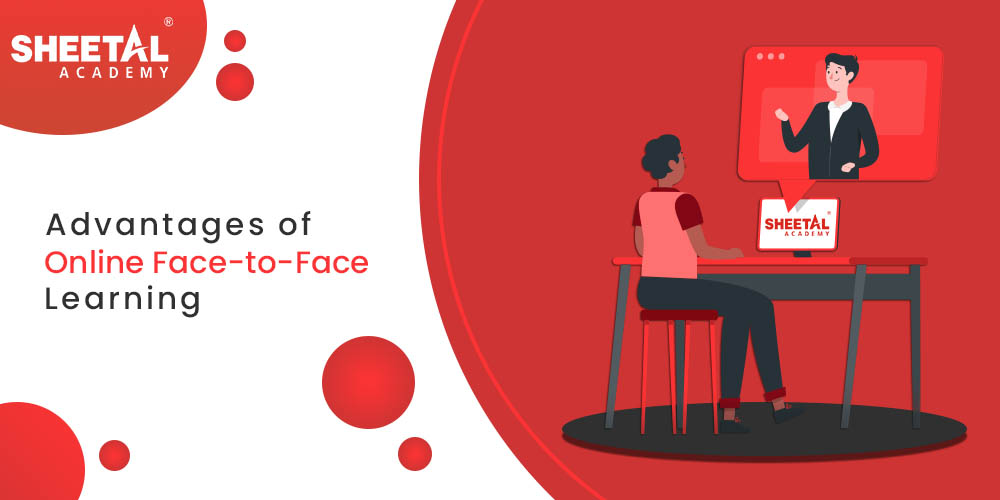 As per the LOCKDOWN, online learning has been established as the best source to get an education. It's possible when knowledge or educational materials are obtained from the internet. We all are aware of face-to-face learning in the traditional classroom setting. And we are completely comfortable with these forms of settings. If you like flexible online learning, but still treasure the effectiveness of face-to-face learning, you are probably wondering if the two can be blended together to form a learning method which is flexible. Blended learning or face-to-face online learning is the process of combining traditional classroom setting learning and online learning.
In an online classroom setting, students and trainers face each other, face-to-face. The trainer instructs the students what to do and the students follow him. In some instances, the instructor writes something on the board and the students could write if they need it. On the other hand, online learning does not always require the instructor and the student to even be online at the same time. The instructor might only be required to mail the subject material to the students. Today, it is being demanded that these two education settings coalesce somehow. But, the advancement in technology is increasingly making it possible for online face-to-face learning to become a reality.
The Video chats between the teacher and students are the closest thing to make face-to-face online learning a reality. It allows the teacher to speak directly with their students without having to rely on things like DVDs and VHS tapes. Some of the video chatting systems used by online teachers today include Skype, Zoom, Microsoft NetMeeting, Webcams, and Adobe Connect among others. Research has proven that the students are able to better concentrate when they can see their teacher as opposed to when they only hear them via voice recordings or email or chat. Video teaching is a promising instructional material when it comes to online learning.
There are so many advantages with face-to-face online learning, which is why it is becoming a trending educational system today. Some of its advantages are given below:
1) Teachers are presenting the sense of leadership; providing an opportunity for the students to deeply follow their instructions as part of the overall training.
2) Students are likely to be more involved in the classroom discussions since they can be picked up on by their teachers to participate at any time.
3) When students acquired questions, they can easily ask and get the answer at the same time. That's why no questions are left unanswered.
4) Students and teachers are usually able to give immediate feedback about their topic during the session.
5) Attention is paid to the work of each student since the teacher able to look at the students what they are working on. This is true for websites that allow for active online participation.
There are so many benefits of the online learning system and it poses a great opportunity for those who are opting for this type of learning especially this LOCKDOWN (Covid-19) situation. Online training not only offers freedom for the choice of timing but also enhances the decision-making capacity as the final choice to take up such an opportunity lies solely with the students.
"Sheetal Academy" is a one-stop online and off-line solution that promotes to improve your lifestyle. We have avail various different categories that cover every topic relating to each individual's daily routine. Our distinguished array of courses include solutions, suggestions, tips, tricks, and many other details relating to every student's daily needs. So, if you want to invest your LOCKDOWN to grab the best possible opportunities, the first thing that you have to focus on is learning English. So, "Contact Us" now to "Join" and enhance your English Speaking, Listening, Writing, and Reading Skills.
AS A SPECIAL, LIMITED PERIOD OFFER, TO SUPPORT YOUR LEARNING, DURING THIS COVID-19 LOCKDOWN, WE ARE OFFERING "HEAVY DISCOUNT" ON SPOKEN ENGLISH COURSE.