We are Launching Basic to Advanced ONLINE ENGLISH TRAINING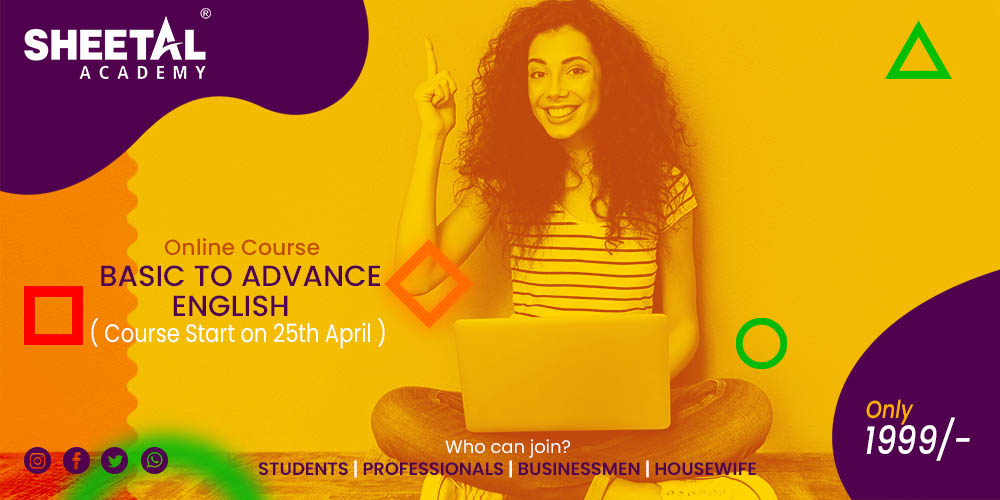 The Health and Safety of all our students is our top priority. In light of the rapidly evolving COVID-19 situation in India and related government advisory, we have postponed the face-to-face classes/courses until further notice.
Are you keen to climb the career ladder? Would you like to study or work overseas? Or just make an impact socially? Whatever your background or ambitions, learning English at the SHEETAL ACADEMY gives you the freedom to explore exciting new opportunities. Our proven approach to learning this course is for building your skills and confidence over time. You will be guided by experienced and well-qualified teachers every step of the way. Learning with us is interactive, engaging, and fun.
You're an English learning rockstar. BUT!
Learning proper language always poses a challenge especially the English Language. What is learned in early education does not help one to master the technical aspect and skills of the language? People have continued to make simple grammatical errors and spelling mistakes even when using basic words that sound similar like "their, they're, there, its and it's" for example pose a problem to many with weak spelling background. People are mainly forced to use the context of the sentence to try and find out the correct version to use. It is very obvious that good spelling is not a matter of being a genius but is a rare talent.
Why is "Basic to Advanced English"?
There are challenges in punctuations, grammar, and even a bit more confusion awaits those who try to check the rules from the grammar books because it all depends on which book you had consulted. Some seem to differ slightly and that is why most people have resorted to consulting language experts to do the proofreading of their literary work before it reaches the audience.
In this course you will:
Understand a wide range of demanding English texts and recognize implicit meanings.
Develop the skills to express yourself fluently and spontaneously in English without much obvious searching for expressions.
Practice how to use English flexibly and effectively for social, academic, and professional purposes.
Learn how to produce detailed texts which use sophisticated organizational structures.
Study subjects such as sport, money, the arts, and time.
Focus on technical issues, for example, adding emphasis and hypothetical meaning.
This course is suitable for:
School & College Students
Professionals
Businessmen
Housewives
This course allows you to speak fluently and function without help in an academic of the work environment in an English speaking country or with other English speakers. At this level, you can understand the subtle and detailed meaning in conversations and texts as well as being able to express themselves in a detailed manner to native English speaking people.
AS A SPECIAL, LIMITED PERIOD OFFER, TO SUPPORT YOUR LEARNING, DURING THIS COVID-19 LOCKDOWN, WE ARE OFFERING 65% off ON THIS COURSE. Get this limited time offer for Just 1999/- before 25th April. After 25th April, You have to pay 2499/- for the same course.
Mr. Nikhil Dedhia is the most experienced and qualified English teacher and he has specially created the lessons for this course just for you. SHEETAL ACADEMY's basic to advanced online English training delivers practical and personalized training and learning experience. So, time comes to think about and join this "Basic to Advanced English Course" for your FUTURE! Visit www.sheetalacademysurat.in to know more or call us @99043-42117.